Check it out: Bonds looks evil even when he's hugging his grandma!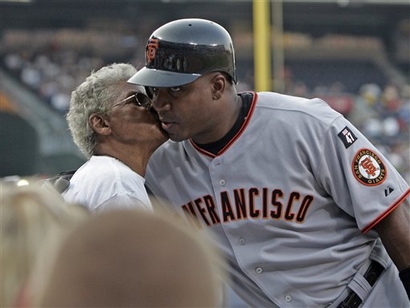 He's probably only using his grandma as a cover while he scopes out the crowd for fans holding posters that express dislike for him, so he can sue them. I didn't see any "*It's Still 755" shirts last night, aside from my husband's (he got compliments on it!), but there was plenty of Bonds harassment to go around - one guy in our section passed out little asterisks printed on paper for everyone to hold up, and there were signs, and a possibly drunken father of two just doing some old fashioned shoutin' at Bonds when he was in the outfield. Fun times!
But back to the more important subject of hugging grandmothers: you know who really doesn't look evil (and never could! Under any circumstances!) when hugging his grandmother? This guy. And while, yes, he can take an awkward picture and end up looking like an overenthusiastic Japanese cartoon character, give him a break. Everyone else was in on the action, too: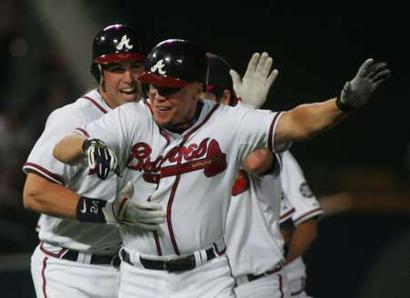 Chipper was sort of over it, wasn't he? He took off for the dugout before the celebration could really get going: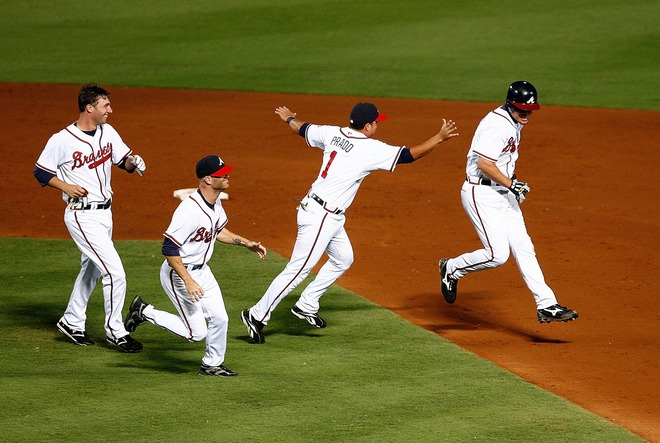 Frenchy: No fair that Heap got to jump on you and I didn't! No fair, Chipper! C'mere!!
Huddy: Lemme show ya'll how we did it in Oakland!
Prado: This means you guys aren't mad at me anymore, right? Wheeeee!
Chipper: Heh . . .
Chipper: /flees
And speaking of things that couldn't really get going, Bobby broke the all-time ejection record last night, and I'm telling you, NO ONE NOTICED. Chipper had just struck out, and I got up in disgust, off to get a beer. Apparently the actual ejection happened while I was walking to the Tomahawk Tavern, but my husband stayed in his seat and didn't even notice it, I guess because it was between innings. There was no crowd reaction, but Bobby probably preferred it that way. It's a shame, though -- I wanted to at least chant "BOB-BY" for a few minutes, or something.
I was also really hoping it would be Huddy vs. Zito today . . . but I don't blame Zito for not wanting to face his old chum, considering the season he's been having. Kick 'em while they're down, Hud!