With the Braves set to face the Dodgers in NLDS, the lineup will have a tall task Thursday facing the Dodgers' game one starter, Clayton Kershaw. As you've probably heard, Kershaw dominated this season and is viewed by many as the game's top hurler. He will likely take home he second Cy Young award in three years, putting up a remarkable 1.83 ERA in 236 innings this season. Between the Dodgers playing on the west coast and the Braves missing Kershaw in both series this season (and last season), I thought it would be informative to take a look at Kershaw and what makes him so dominant.
The logical place to start with Kershaw is his deadly arsenal of pitches. He carries a fourseam fastball, a devastating curve, a slider and a changeup he'll mix into righties every once in awhile. Against both lefties and righties, Kershaw generally starts off hitters with his fastball 80% of the time, which sits 93-94, then attacks with his off speed pitches once ahead in the count. Although known for his devastating 12-6 curveball, Kershaw actually throws his slider on a more frequent basis, only really reaching back for the curveball when ahead in the count and as a put away pitch.
Speaking of the curveball, it's hard to write an article on Kershaw without dedicating an entire paragraph to it. It is regarded by most all as the best in the game. According to Brooks Baseball, Kershaw has thrown 2,203 curveballs in his career. Out of every single one of those offerings, he's only issued a single home run, holding opponents to a scorching .146 SLG%. After doing some digging, the mythical home run appears to be served up to Matt Holiday in game two of the 2009 NLDS. Going a bit deeper with FanGraphs pitch values, his curveball has been the best in the game over the past three seasons, saving 2.39 runs per 100 pitches*. If you don't know what that means (which I don't exactly blame you), the next GIF, courtesy of CBS's Dayn Perry, is really all you need to know.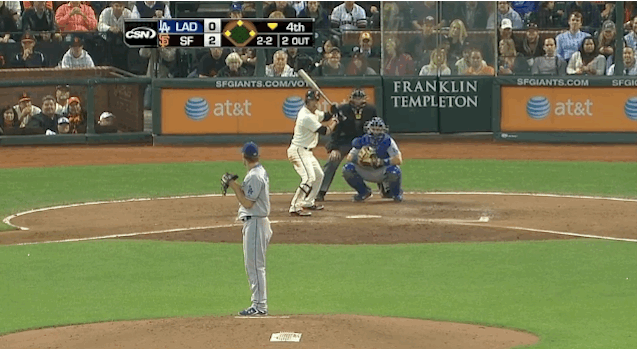 *Ohh, and his fastball, which saves 1.30 runs per 100 pitches, is second to only Cliff Lee over the past three seasons.
Another reason Kershaw could frustrate parts of the Braves lineup is his remarkable dominance against left-handers. The 171 LHB he faced in this season put up a combined .166/.224/.253 triple-slash with a 41.5 K% and a 6.4 BB%, good for a league best 1.24 FIP. Put it this way, he's basically Craig Kimbrel when facing lefties. Between him beginning his windup on the first base side of the rubber, followed by a particularly deceptive delivery, it makes it extremely tough for lefties to pick up the ball out of his hand, then proceed to guess which plus pitch is heading their way. This aspect of his game perfectly complements his overpowering stuff. Jeff Sullivan wrote a great piece on Kershaw and his delivery a little over a month ago. If you don't have the time, these next few sentences sums it up best,
"…Kershaw keeps the baseball hidden from the hitter until right before it's released, and it stands to reason that makes Kershaw even more effective than he might be otherwise. Hitters are left having to guess, and Kershaw isn't afraid to throw any of his pitches to any kind of bat. On multiple occasions in the past, opponents have remarked that they have trouble seeing the ball against Kershaw…"
Kershaw will likely cause the Braves fits Thursdays night, but all is not lost. The Braves will only have three LHB in their projected lineup (Heyward, Freeman, McCann) and do carry two of the top hitters v. left-handed pitching in their lineup. Justin Upton, who I talked about last month, and Chris Johnson have put up wRC+s of 178 and 163, respectively. Even Heyward and Freeman have put up above average numbers v. LHP this season. Looking at the lineup construction for game one (assuming a Gattis-Heyward-Upton outfield), I wouldn't change the top of Heyward-Upton-Freeman, but would slot in Johnson and Gattis in the 4-5 holes, and slide McCann down to 6. McCann has struggled a bit in the second half and has never fared well against lefties in his career. To be honest, I wouldn't put up a fuss if someone wanted to argue against him starting game one.
If the Braves jump on the fastball early, there is no reason their homer heavy offense can't push across a couple of runs. However, there is a fine balance between being over-aggressive and too passive. Both ends of this spectrum will leave hitters in unfavorable counts and at mercy of facing Kershaw's deadly off-speed offerings.
Be sure to check back for a more comprehensive NLDS preview.